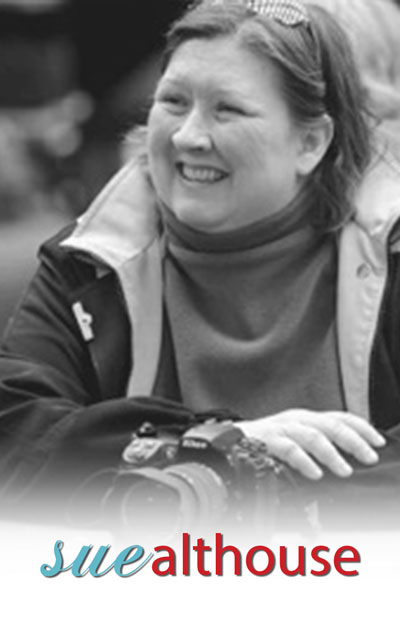 Sue grew up in Ohio, but currently lives in southeastern Michigan with her husband of 30+ years and two spoiled cats. They have one grown son who is married and working as a graphic designer. Sue holds Bachelor and Master's degrees in music and spent an enjoyable 25 years teaching piano lessons. She is recently retired. She enjoys reading, knitting, bike riding and rooting for her beloved Ohio State Buckeyes or Detroit Tigers.
Sue started scrapbooking in 1999 after she and her husband took a trip to Israel and Egypt and came home with a plethora of photos and stories. She knew she wanted to do something more than slap pictures in a magnetic album. Her love of preserving memories quickly grew as she learned more about color and design, and discovered the online scrapping community. Her preferred style is clean, colorful and classic. She is a big fan of grids and white space. Sue now combines her love of scrapbooking and her love of teaching by holding classes at her local scrapbook store as well as teaching here at Creative Passion.
Sue has been published in Scrapbook Trends and Scrapbooks & Cards Today magazines. She is a former member of Simple Scrapper and Allison Davis' Sketch Support design teams. She is currently serving on the design teams at Get It Scrapped! and Write. Click. Scrapbook. You can find her teaching classes at Creative Passion Classes, on Facebook, Twitter, Pinterest and her personal blog at SueAlthouse.com.